Burundi/USA : 160 militaires FDN formés prêts à partir en Somalie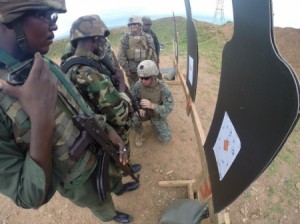 [ Nahimana.P,Bruxelles, Burundi-forum.org, le dimanche 4 janvier 2014 ] A Bujumbura, en ce début du mois de janvier 2014, la Force de Défense Nationale (FDN), l'armée du Burundi, prépare l'envoi de troupes pour la Somalie. 160 militaires Barundi de la FDN ont terminé en décembre 2014 un – entraînement-formation et préparation – depuis octobre 2014 aux côtés d'instructeurs de l'armée américaine, plus précisément du corps des fameux Marines US ( Marines and Sailors with Special Purpose Marine Air Ground Task Force Crisis Response-Africa).
Pour le Major instructeur Luke Saube, des Marines de l'US Army, cette formation militaire qui vient de prendre fin avait pour objectif de renforcer surtout l'esprit de corps et de capacités des militaires Barundi FDN au sein de l'AMISOM ( la force de pays de l'Union Africaine en Somalie).
Ces dernières années, la FDN et le corps des Marines de l'US Army ont appris à s'apprécier à travers un échange de connaissances, de professionnalisme, et de camaraderie. Le Burundi dispose de 5,432 FDN déployé en Somalie, au sein de l' AMISOM.